Lab Quality Field Turbidimeter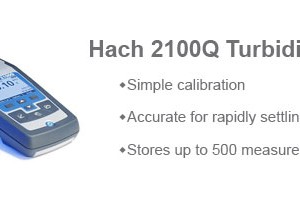 The growing use of turbidity as an indicator of environmental quality has resulted in a demand for high-quality, objective turbidity measurements in both the lab and field. The Hach 2100Q Field Turbidimeter, or turbidity meter, meets this demand by providing a portable, rugged instrument with lab quality results that meets or exceeds USEPA Method 180.1 criteria. With a measurement range of 0 to 1,000 NTU, a resolution to 0.01 NTU, and direct digital readout, the 2100Q is ideal for regulatory monitoring, process control or site studies.
This turbidimeter is easy to use, accurate, and offers a number of features that streamline the measurement process, such as assisted calibration and simplified data transfer.
The patented Ratio Optical System compensates for color in the sample, light fluctuation, and stray light, bringing a high level of accuracy, sensitivity, and reliability. Sealed vials of StablCal calibration solutions and secondary standards can be used for up to 2 years, making calibration and quality assurance easy, quick, and inexpensive. A two-year warranty ensures the Hach 2100Q is cost-effective and reliable.
Hach 2100Q Turbidity Meter Features
Easy Calibration and Verification — On-screen assisted calibration and verification helps ensure measurements are right every time. The easy-to-follow interface helps save time by eliminating the need to reference complicated manuals in order to perform routine calibrations. Hach's single-standard "RapidCal" calibration offers a simplified solution for low level measurements.
Simple Data Transfer – Data transfer with the 2100Q is simple, flexible, and doesn't involve additional software. This feature requires the USB + Power module. All data can be transferred to the module and easily downloaded to a computer with a USB connection, providing superior data integrity and availability. With two different module options, it's possible to customize connectivity and power to meet a project's specific needs.
Accuracy for Rapidly Settling Samples – The Hach 2100Q incorporates an innovative Rapidly Settling Turbidity (RST) mode to provide accurate, repeatable measurements for difficult-to-measure, rapidly settling samples. An exclusive algorithm that calculates turbidity based on a series of automatic readings eliminates redundant measurements and estimating.
For more information about the Hach 2100Q or other turbidity measurement technology, call a Fondriest Environmental product specialist at 888.426.2151 or email customercare@fondriest.com.