Georgia DNR loosens water standards for Lake Lanier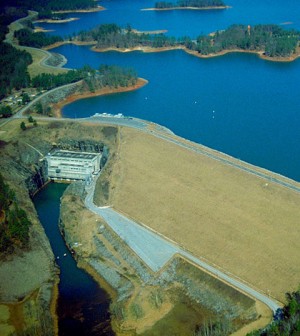 Georgia's Department of Natural Resources has voted to raise the level of allowable chlorophyll-a on Lake Lanier from five parts per billion to seven parts per billion, according to the Gainesville Times. Chlorophyll-a concentrations indicate the amount of algae in water.
State officials say the standards are already some of the lowest for any lake in the state, so raising them slightly shouldn't negatively impact the lake. Algae at moderate levels are an important food source for aquatic life.
The change in standards came after modeling results indicated the original standard of five parts per billion couldn't be met. A periodic review mandated by the federal Clean Water Act brought about an update to the original standard, which was established in 2000.
Image: Buford Dam on the Chattahoochee River in northern Georgia, USA. The dam impounds Lake Lanier. (Credit: U.S. Army Corps of Engineers)