Georgia dredge plan opposed in South Carolina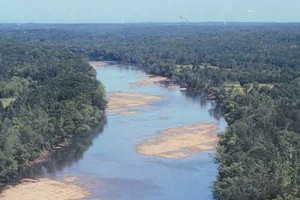 South Carolina senators are criticizing their state's environmental agency for approving a plan from neighboring Georgia to deepen the Savannah River, which forms most of the border between the two states.
South Carolina Republican Sens. Tom Davis and Larry Grooms said the plan would harm their state's environment while boosting Georgia's economy, according to a report from the Island Packet. Their concern is the dredging would deplete dissolved oxygen in the river. They dismissed a plan from Georgia to pump oxygen back into the water with untested technology.
The dredging could also scrap away a layer of clay between the river and the aquifer beneath it, increasing the risk of saltwater flowing into the aquifer and tainting drinking water.
Read more at The Island Packet
Image credit: GPB News