Lack of rain slows endangered salmon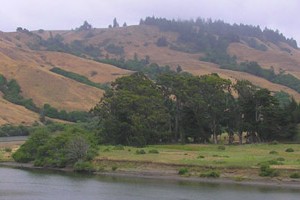 Lack of rain has held up endangered coho salmon on their way up California's Russian River, prompting concerns from biologists and conservationists that many from this small population will be killed by anglers who think they've hooked a steelhead, a popular sport fish.
The coho are usually spawning in tributaries upstream by now, but low flows have kept them in the main stem of the river. Russian River coho salmon are federally endangered and the target of an extensive rehabilitation program that includes population monitoring and stocking hatchery fish. As few as three coho returned to the river to spawn in recent years, though officials counted over 100 this year.
Read more at Santa Rosa PressDemocrat