Lake Michigan buoy lets beach-goers test the water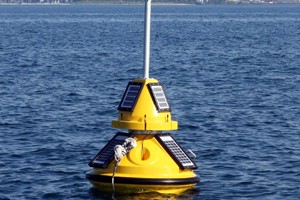 Visitors to an Indiana beach on Lake Michigan can find information on wave height, wind speed and water temperature through a website connected to a buoy four miles offshore, according to a release from Purdue University. Scientists are sharing the info while they study conditions in the area.
The buoy – a TIDAS 900 model – is owned and operated through a partnership between Illinois-Indiana Sea Grant and the Purdue University Department of Civil Engineering. From April 1 to Nov. 1 of each year, it will collect information on an understudied area of Lake Michigan.
Scientists and meteorologists previously obtained data from a single buoy 50 miles from shore. Conditions farther out are different, and the new buoy will provide more info on the environment closer to shore.
Data will be shared with the National Weather Service, the Indiana Department of Natural Resources and the National Data Buoy Center. The buoy will also contribute findings to a worldwide network of buoys and coastal monitoring stations.
Scientists say the buoy will improve predictions of hazardous weather, help the fishing community target particular species and reveal circulation patterns that affect Lake Michigan's biological activity.
For real-time data from the buoy, visit http://www.iiseagrant.org/buoy/index.html.
Image credit: Illinois-Indiana Sea Grant photo/Anjanette Riley