Largest El Niño Since 1997 Predicted For 2015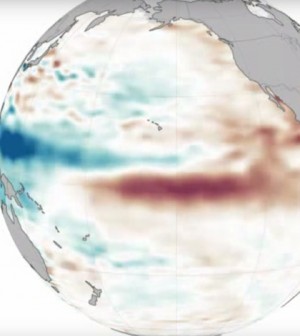 Sea surface height anomalies for the Pacific Ocean basin between January and July of 2015. (Credit: NASA)
Few weather phenomena can match El Niño for its impact on where, when and how heavily rain will fall. Drought-ending for some and catastrophic for others, the El Niño of 2015 is shaping up to be as dramatic as the record El Niño of 1997, according to information from the National Weather Service reported by WUSF News 89.7 of Tampa, Florida.
The El Niño event this year could lift California out of drought, experts say, or it could force Indonesia and the Philippines into desperately dry conditions. El Niño's effects elsewhere could include hurricanes, floods and mudslides.
The predictions of all NWS computer models point to a huge El Niño event this year and the signal from the Pacific Ocean seems unusually strong. Late fall or early winter are expected to be peak times. It may even last until early spring.
A temperature rise of about 1.5 degrees Celsius in Pacific equatorial surface waters usually accompanies El Niño, but computer models predict this year's event may see a temperature rise of as much as 3 degrees Celsius, which would be unprecedented. Such a temperature change would mean severe El Niño weather effects all over the Pacific.
Top image: Sea surface height anomalies for the Pacific Ocean basin between January and July of 2015. (Credit: NASA)