Low-cost 'Cranberry' water quality sonde could bolster global lake observation network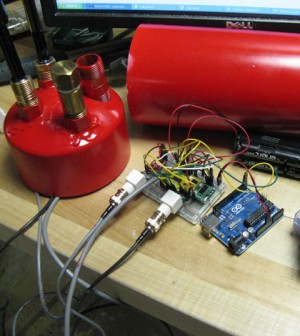 The Cranberry housing and components, including an Arduino microcontroller (Credit: Ryan Schoeneman)
A water quality sonde in development at Kent State University is called the cranberry because it's red and it floats, just like the small and fleshy fruit.
Made with common sensing components, its creators hope it can one day be used in small, inland lakes as part of a one-person deployable buoy package. They are putting their design into blueprints and look to share those with research groups once it has been fleshed out. From there, they'd like to pass the design to members of the Global Lakes Ecological Observatory Network as a standard, inexpensive sensing package that could be deployed on lakes worldwide.
"We're using off-the-shelf sensory probes," said Ryan Schoeneman, a graduate student pursuing a doctorate degree in ecology. He's working alongside Darren Bade, a limnologist at Kent State and the project's principal investigator. "Probes that were never meant to be submerged, we're submerging."
Those are Sensorex and Atlas Scientific probes for dissolved oxygen, conductivity, temperature, oxidation-reduction potential, pH and depth. They're mounted on brass fittings and epoxied inside a red PVC tube and wire into an Arduino microcontroller. An optional Raspberry Pi computer allows for onboard data processing in the R statistical suite and easy graphical interface with the Arduino, a feature geared towards high school science classes and citizen scientists to ensure ease of use. Other features such as cellular communication and a thermistor string are also being tested.
So far, developing the sonde has been stymied by a lack of funding. Schoeneman says his lab is providing support right now and that his team is considering launching a crowdsourcing effort to front the cost.
The sonde isn't yet ready for large-scale deployments but can collect data and takes stable measurements. Schoeneman says longer-term testing is needed to make sure the cranberry will be reliable in the field.
Once it's ready, the field-tested, affordable sonde would meet a need.
At the 2013 Global Lakes Ecological Observatory Network meeting in Argentina, Schoeneman met a lot of South American researchers who had run into limited government funding for their work. The cranberry could really help these scientists, he says, by giving them an inexpensive way to test basic water quality parameters.
"This was back during the sequester. We were talking at the conference that there's a crunch for grant funding and ways that we could move forward in more affordable, cheaper routes," said Schoeneman.
They talked about the increase in citizen science and how their plans would need to appeal to those newcomers to lake research as well as seasoned scientists in the field. The cranberry, aimed to be affordable and easy to use, could attract those groups while edging toward a greater objective.
"The ultimate goal is to develop this sensor and buoy package so that we can create a mass data set on many lakes that is publicly accessible," said Schoeneman.