LSU documents rarely seen oarfish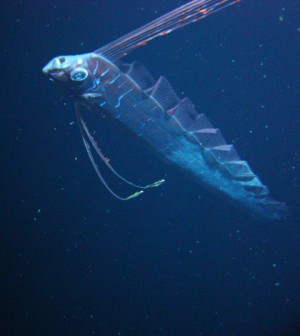 Louisiana State University recently released imagery and video documentation of the longest known species of bony fish in the world.
It's called an oarfish and it looks more at home in a science fiction movie than the ocean, with antennae and a squirming reflective dorsal fin.
According to the release, the fish live in the open ocean between the surface and the twilight zone, where ocean waters start to get very dim.
Oarfish were documented by remotely operated vehicles through a partnership between researchers and the oil and gas industry, which commonly uses the ROVs for well inspection.
A video of an oarfish swimming in its natural habitat already has almost 1.5 million views in just over a week online.  Check out the fifth minute of the video for a close-up of the fish swimming along.

Image: The image of the oarfish released by LSU (Credit: LSU)