In maize-growing regions of Africa, recent climate change has increased water availability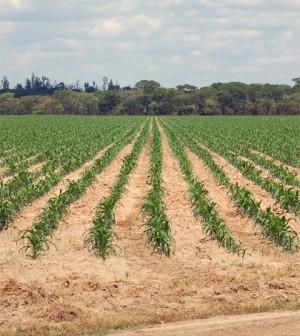 Maize growing in Zambia (Credit: Lyndon Estes)
While much of the Western world uses irrigation to produce food during drier times, many African farmers rely on rainfall and luck to make ends meet. Researchers from Princeton University studied water availability trends in the maize-growing regions of Africa to project the effects of recent climate change on agricultural efforts there.
The study draws on a combination of historical weather station readings, simulated meteorological datasets and satellite measurements gathered in 21 African countries between 1979 and 2010. The researchers examined trends in rainfall and potential evapotranspiration, or PET, the amount of water transpired by plants and evaporated from the soil when water is readily available. The study also looked at how much changes in PET are determined by four important factors: temperature, wind speed, humidity and net radiation.
Piecing the data together, the researchers mapped out water availability trends across the continent's maize-growing regions. According to Lyndon Estes, the study's lead author and associate research scholar at Princeton, the process revealed some interesting patterns.
"What we found was that water availability for maize appears to have actually increased in much of Africa, but for different reasons," Estes said.
Improved rainfall following a long-term drought in the 1970s and '80s is the primary contributor to the increased water availability in West Africa's Sahelian region, Estes said. In the southern regions of Africa, declining PET helped increase available water. But other parts of the continent didn't fare so well. In parts of East Africa, declining rainfall and increasing atmospheric demand led to diminished water availability.
"We expected to see that there would be either flat or declining trends in PET because other studies…have found that important factors such as wind speed have been declining in many places around the world," Estes said. "So we didn't expect to find that wind speed appears to have had almost no role in changing PET in African maize-growing regions."
Estes admitted that the relatively negligible impact of that particular variable could be explained as an artifact of his study's data set, or the result of its limited scope. Many previous studies examined water trends throughout the year, while the Princeton study only examined changes during the maize-growing season.
Obtaining reliable data was a real challenge of the study, Estes said, as changes made to instruments and satellites over the 30-year period could result in biases and misleading trends in the data.
Ultimately, the trends mapped in the study could influence farmers' crop selection or irrigation practices. But Estes warned that further research is necessary before attempting large-scale changes to agricultural policy.
"Before anyone makes a policy decision based on these findings, you would want to conduct finer-scale studies within affected countries," Estes said. "If the results hold up after that, it could be useful in helping set things such as irrigation policy."
Top image: Maize growing in Zambia (Credit: Lyndon Estes)