NASA and NOAA satellite can see in the dark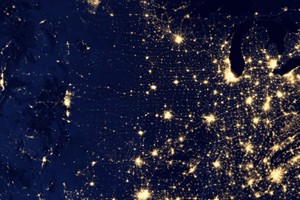 NASA and the National Oceanic and Atmospheric Administration have joined forces to operate the Suomi NPP satellite, according to a University of Wisconsin release. With advanced capabilities, the satellite can observe dim light down to a single ship on the ocean at night.
The instrument responsible for that capability is the Day Night Band and is just one feature of the new satellite capable of taking high-quality nighttime images 500 miles above Earth. The Day Night Band uses faint, nocturnal atmospheric light called "airglow" to read light levels at night, and is part of the Visible Infrared Imaging Radiometer Suite on the Suomi NPP.
Nighttime readings from the satellite will help add detail to weather advisories issued by the National Weather Service and show emergency responders how extensive damage is following natural disasters by noting the absence of light in affected areas.
Image: U.S. city lights captured by the Suomi NPP satellite (Credit: NASA)