New environmental research consortium at Lacawac Sanctuary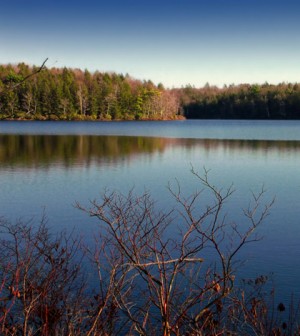 The Lacawac Sanctuary where the consortium will be based (Credit: Nicholas A. Tonelli, via Flickr)
The Pocono Mountains will be the setting for a new environmental research consortium at Lacawac Sanctuary, according to a release from Drexel University. The university, along with the Lacawac Sanctuary Foundation and the Academy of Natural Sciences of Drexel are supporting the consortium.
The partnership will focus on research into climate change and water quality, which will benefit from the construction of a new research lab. The lab will be housed at Lake Lacawac.
Lacawac Sanctuary is a 545-acre nature preserve in eastern Pennsylvania, designated a national natural landmark. At its heart is the lake, which is 13,000 years old.
Image: The Lacawac Sanctuary where the consortium will be based (Credit: Nicholas A. Tonelli, via Flickr)