New University of Toledo Research Vessel Will Address Lake Erie Issues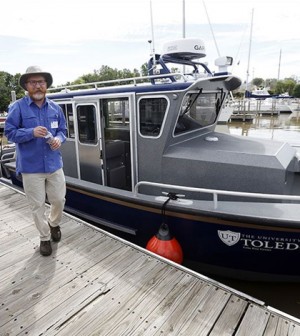 Thomas Bridgeman, associate professor of ecology at the University of Toledo, showed the new research vessel during a dedication ceremony. (Credit: Amy E. Voigt / The Blade)
The University of Toledo has dedicated a new research vessel for use by scientists and students studying Lake Erie issues, according to The Toledo Blade. These include efforts to fight invasive species and learn about the movement of harmful algae.
The new boat is 28-feet long, 3 feet longer than the university's old fiberglass research boat, the Mayflier. It also has an enclosed cabin to protect crew from the elements and features new equipment to make monitoring Lake Erie easier and more efficient.
Some of the new equipment installed on the boat include a hydroacoustic imaging system to identify fish; a drone with cameras for aerial surveys; an infrared camera that can analyze algae; and a sturdy arm for deploying and retrieving data buoys. The boat has already been used to deploy a buoy near a water intake in Lake Erie's Maumee Bay. Real-time data from that monitoring platform are available online at http://wqdatalive.com/public/515.
The new research vessel cost the university $250,000. Additional instruments and equipment cost $100,000.
Top image: Thomas Bridgeman, associate professor of ecology at the University of Toledo, showed the new research vessel during a dedication ceremony. (Credit: Amy E. Voigt / The Blade)