NexSens introduces MB-100 data buoy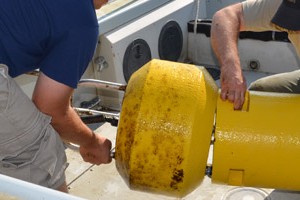 Able to deploy in under 10 minutes — with one person — and for a fraction of the cost of any other system available, the new ultraportable NexSens MB-100 data buoy is changing how people think about water monitoring. Together with the NexSens SDL submersible data logger, it forms a reliable, easy-to-use, and cost-effective real-time water monitoring solution in both surface and sub-surface applications.
The MB-100 is designed to suit open-water and near-shore water monitoring applications. It is small and lightweight, but not at the expense of quality or durability. With an inner core of cross-linked polyethylene foam, heavy polymer skin, and an indestructible stainless steel frame, this unit can withstand the roughest of seas and provide years of service.
All sensor connections are concealed below the surface with ruggedized waterproof connectors. A wireless transmitter can be positioned above the water but hidden and protected under the buoy hood. Depending on application needs, sensors can be suspended from the buoy along a mooring line in order to make water column measurements, or they can be positioned just beneath the buoy, providing greater protection.
A fully-loaded system (with data logger and batteries) weighs just over 30 pounds and is easily deployed by one person from any vessel. Simply attach a single-point mooring assembly and throw it overboard. The buoy will right itself and begin logging data immediately.
The MB-100 is the perfect platform for a NexSens SDL submersible data logger, which supports nearly every environmental sensor interface and can transmit data wirelessly in real time. It can withstand even the harshest conditions and run for months on alkaline batteries. The SDL consists of the data logging hardware and communication module housed in a fully-submersible, five-inch-diameter round enclosure.
The SDL can be outfitted with a spread-spectrum radio, cellular, or Iridium satellite modem and antenna for real-time communication with an off-site project computer. It is able to interface with multi-parameter sondes, water quality sensors, temperature strings, Doppler velocity meters, and many other sensors. It is configured with five sensor ports for connection to industry-standard communication protocols, including SDI-12, RS-485, 1-wire, 0-2.5 VDC, pulse count, and digital I/O. With this interface versatility, the measurement possibilities are endless.
With iChart software and the WQData web service, posting online data is quick and convenient. Data can be presented on a public portal or password-protected website and is accessible with any desktop, laptop, or smart phone. Moreover, HTML and text-based applets make it easy to incorporate the latest data on other websites.
At an affordable price point, building a network of multiple buoys is now an option for many projects.
For more information on the NexSens MB-100 Data Buoy, please call 888.426.2151 or email customercare@fondriest.com.