Nine dams to be removed on Little Lehigh, Jordan Creek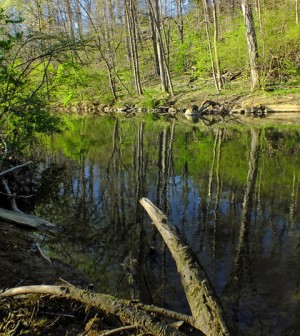 Residents of Pennsylvania's Lehigh Valley were concerned with a proposed dam removal project on the Little Lehigh and Jordan Creeks, according to The Morning Call. Studies indicate, however, that the removal of the creeks' nine dams will be good for the ecosystem.
Experts say muskies will likely not move into the streams after the project's completion, but trout and other fish may. At a cost of $431,000, the removal project is expected to improve water quality while also opening up 25 miles of stream.
The removal project is up for bid and work is expected to begin in July and last through October 2013. Following removal, a conservation organization will begin monitoring the newly flowing water to see how it reacts with stream banks.
Image: Little Lehigh Creek (Credit: Nicholas A. Tonelli, via Flickr)