Platypus puts new spin on autonomous robotic monitoring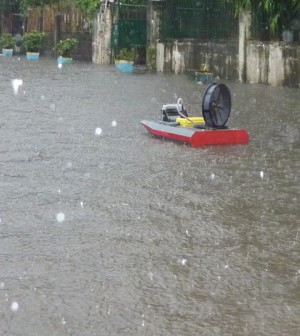 A platypus is a strange creature. It has the bill of a duck, the tail of a beaver and the feet of an otter. But with all those different parts, it still manages to survive.
Such adaptability was why the animal's name was taken by robotic monitoring company Platypus, LLC.
The company got its start in Carnegie Mellon University's robotics institute and made a splash by developing a low-cost airboat that uses a circuit board, Android smartphone and specialized fan engine to take water monitoring into hard-to-reach areas. It still partners with the school to provide learning opportunities.
"All our boats were initially custom," said Christopher Tomaszewski, a graduate student at Carnegie Mellon working in the cooperative robotic watercraft program. "So 'platypus' is kind of like putting all these parts together and it's still able to thrive."
Platypus' current models cost $3,000 each and come with a circuit board and phone compartment mounted on a polyurethane hull. The phone and circuit board mostly communicate via Bluetooth technology.
The circuit board is programmed and all the data is stored in plain text on the phone. The data is streamed via 3G, 4G or Wi-Fi to a user's computer. Each plain text file is about a hundred bytes in size, while images take up more space.
The company is also working on the Sirenia, a prototype watercraft about the size of a rowboat. It was designed for a different mission, with hulls made of ABS, a common thermoplastic, and a polyurethane foam center.
"We were focused on small, hard to reach places, but more weight is needed to explore rougher waters," said Tomaszewski. "The larger boat will be able to sustain heavier sensors and have a longer deployment. It has more power and is driven underwater, which allows it to go against a stronger current."
There is a standard sensor package on each boat that can record common characteristics of water, such as temperature, conductivity, turbidity or dielectric constant.
"You can use the first boat with the sensor package to see if one measure is high, then follow up with other sensors to save money," said Tomaszewski.
The camera on each craft's smartphone has an interesting mission, taking pictures of surroundings both to chart the monitoring course and provide visual data for users.
"We create maps and specific mooring points. It uses a grid. It has measurements and looks at the variance of the data points," said Tomaszewski. "It automatically evaluates to see if it missed a data point and, if it has, plans it into its route."
That means users won't miss important data needed for their applications.
"We deployed a DO (dissolved oxygen) sensor for a fish farm. The farmer had used a handheld and measured DO in different spots," said Tomaszewski. "But the boats can cover the whole lake. That's better because the few points he looked at may not reflect actual DO levels."
Not only is Platypus looking at larger monitoring craft, but its expanding the sensors that can be used with its systems. In addition to the standard package, its lineup now includes sonar, pH and mass spectrometers, among others.
"One of the great things about our technology is that you can drop it anywhere. You can put it on a land vehicle, on remote controlled cars or maybe even fly it," said Tomaszewski. "It's flexible and has applications everywhere."
Top image: A Platypus autonomous monitoring boat at work in the Philippines (Credit: Christopher Tomaszewski)