Project tests drinking water across New York ahead of potential fracking approval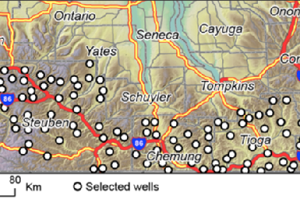 Syracuse University geology professors are collecting and testing samples from drinking water wells across southwestern New York ahead of a potential approval of hydraulic fracturing in the state, according to a report from North Country Public Radio.
Called Project SWIFT, for Shale-Water Interaction Forensic Tools, the effort could make it easier to detect any contamination caused by hydraulic fracturing if the state chooses to allow the controversial natural gas extraction method. That approval is on hold while the state reviews the potential environmental and health impacts.
In states where hydraulic fracturing is allowed, proving that the process has polluted drinking water has been difficult because some wells have naturally high background levels of contaminants.
Image: A map of test wells in the Shale-Water Interaction Forensic Tools project (Credit: Syracuse University)