Rice University nanoparticles could track fracking pollution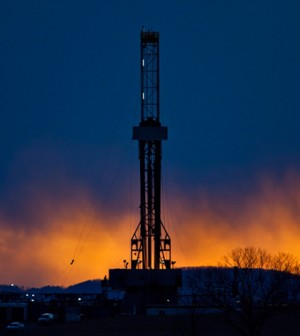 Image: Hydraulic fracturing drill rig in Pennsylvania (Credit: Environmental Protection Agency)
Researchers from Rice University have developed nanoparticles that can be combined with fracking fluids and tracked in to determine the impact of fracking on the environment, The Scranton Times Tribune has reported.
The nanoparticles consist of tiny rust specks that can be combined with fluids used in natural gas drilling. Researchers can impart unique magnetic signatures to these particles to assign each drilling company its own signature particle fingerprint.  Researchers would then be able to either hold particular companies responsible or rule them out as sources of pollution depending on a water sample's chemistry.
In the past, it has been difficult for scientists to conclusively link groundwater contamination to fracking since many pollutants typically found in fracking fluids can also occur naturally in the environment.
Image: Hydraulic fracturing drill rig in Pennsylvania (Credit: Environmental Protection Agency)