Snags in acquiring private land needed to restore Everglades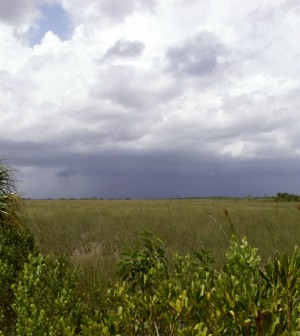 Everglades National Park along the main road to Flamingo (Credit: Moni3, via Wikimedia Commons)
One key to restoring the Florida Everglades is recreating the southern flow of Lake Okeechobee, according to WUSF. The redirected flow would restore much of the natural habitat that was long converted to farmland and used to produce sugar crop.
Land that would be needed for the restoration is owned by U.S. Sugar Corp. Though the state of Florida was able to purchase a small amount of the acreage in 2010, economic troubles left the state with too little cash to purchase all the land.
Environmental groups say that the current political climate in the state is not conducive to their demands. The current administration, led by Governor Rick Scott, is currently looking to sell some of Florida's parks and forest land.
Image: Everglades National Park along the main road to Flamingo (Credit: Moni3, via Wikimedia Commons)