Technology Update: Wave Monitoring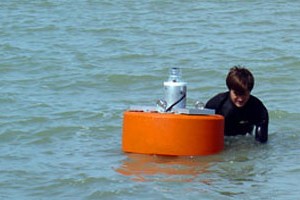 Using NOAA's National Data Buoy Center's guidelines for wave measurements, NexSens Non-Directional Wave Systems provide consistent, accurate wave data with real-time access via web browser or Smart phone. The system consists of an absolute pressure sensor, data logger with wireless telemetry, software for data acquisition and wave calculations, and web-based datacenter for user access.
The sensor is fixed to the seafloor where it measures absolute pressure to determine fluctuations in the water surface. The data logger samples 1,024 data points at 4 hertz over a four to five minute period. The data logger transmits the raw data by spread spectrum radio or cellular telemetry to a remote computer running iChart Software. The software then calculates and outputs wave height and period for a defined interval.
The calculation follows NOAA's National Data Buoy Center format by determining the distance between the crests and troughs. The significant wave height is calculated as the average of the tallest one-third of the waves. The dominant (maximum energy) wave period is determined by a Fast Fourier Transform (FFT). The real and imaginary parts are scaled by half the number of points and the non-directional spectrum is calculated. Next, the spectrum is scanned for the frequency with the most energy. This frequency is then converted to and displayed as dominant wave period.
NexSens Non-Directional Wave Systems are available in a pole-mount or buoy-based platform. Pole-mount configurations include all hardware housed in a weatherproof enclosure for installation above flood stage or maximum water level. In locations where a fixed platform is not available, buoy-based systems are completely integrated to include a submersible data logging system with alkaline battery power or solar charging.
The AccuStage Non-Directional Wave Sensor is available with a stainless steel or titanium construction. The sensor is accurate to +/-0.1% full scale with a range of 1 to 275 meters. The sensor includes a Hytrel-jacketed and shielded cable with optional anti-chafing armor for extended deployments in harsh conditions. A variety of mounting options are available to fix the sensor to the seafloor.
For data on the go, WQData is a web-based datacenter that offers real-time wave data via web browser or Smart phone. For more information, visit Fondriest.com or call 888-426-2151.