Toxicity of standing water left by Hurricane Sandy a concern in New York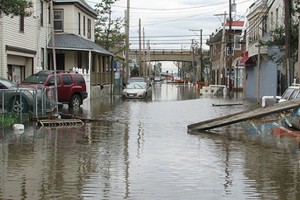 Environmental groups are concerned that some of the standing water leftover from Hurricane Sandy throughout New York City could harbor sewage, oil and toxic chemicals washed away from Superfund sites, according to the New York Daily News.
Gowanus Canal, a Superfund site, overflowed its banks, but the U.S. Environmental Protection Agency has so far reported no resulting health risks. Meanwhile, more than 600 oil spills were reported to the state, and 10 wastewater treatment plants discharged partially treated or untreated sewage.
Officials are warning people against coming into contact with standing water and are encouraging homeowners to pump out flooded basements as soon as possible.
Image: Post-Sandy flooding in Rockaway, Queens. (Credit: Dakine Kane, via Flickr)