U.S.-Canadian Agency: Great Lakes still have far to go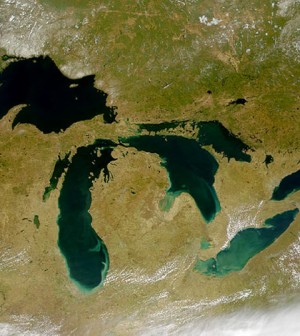 Great Lakes from space (Credit: SeaWiFS Project, NASA/Goddard Space Flight Center, and ORBIMAGE.)
The International Joint Commission, which advises the United States and Canada on issues affecting shared waterways, reports that the Great Lakes still have big problems yet to be solved, according to the Associated Press.
While levels of some toxins have dropped, the rate of their decline has slowed and new chemicals have been revealed, the commission reports. Algae blooms, which had been reduced dramatically, staged a comeback in recent years and rising surface temperatures and less winter ice are contributing to lower water levels.
The report focuses on the period since 1987, when the agreement between the two nations was updated with an emphasis on reducing toxins and cleaning highly contaminated areas. Budget concerns on both sides of the border have affected the effort, with experts noting tightened spending makes bilateral coordination increasingly important.
Image: Satellite image of the Great Lakes from space (Credit: SeaWiFS Project, NASA/Goddard Space Flight Center and ORBIMAGE)