Wait continues for Delaware River gas drillers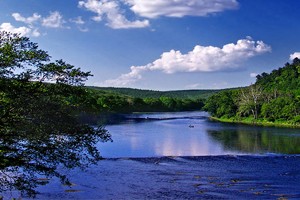 Environmentalists and the natural gas industry are still waiting on the regulatory agency that oversees drilling near the Delaware River for a decision on new rules governing hydraulic fracturing in Marcellus shale formation, according to a report from the Pocono Record.
The Delaware River Basin Commission, which consists of representatives from Pennsylvania, New Jersey, New York and Delaware, put a moratorium on natural gas drilling permits while it developed drilling rules. The commission released proposed regulations in 2010 that were criticized as too weak by environmentalists and too tough by landowners who could benefit from drilling leases. The commission delayed a vote on the proposal scheduled for Nov. 2011.
Read more at the Pocono Record.
Image credit: Flickr – Nicholas_T