West Antarctica Glaciers Melt At Pace Not Seen Before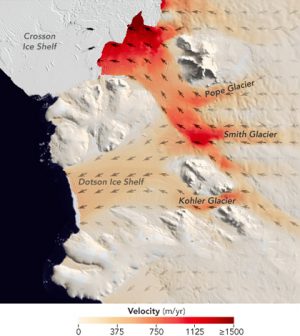 The Smith, Pope and Kohler glaciers flow into the Dotson and Crosson ice shelves in the Amundsen Sea embayment in West Antarctica, the part of the continent with the largest loss of ice mass. (Credit: NASA Jet Propulsion Lab / Public Domain)
Researchers with the University of California (UC), Irvine, and NASA have completed a pair of studies documenting the pace of glacier melt in West Antarctica. Their findings show that the melting there is occurring at a rate never before observed.
The studies examined three neighboring glaciers that are melting and retreating at different rates. The Smith, Pope and Kohler glaciers flow into the Dotson and Crosson ice shelves in the Amundsen Sea embayment in West Antarctica, the part of the continent with the largest decline in ice.
One, led by a UC Irvine researcher, looked at satellite records in its approach. Scientists compared radar measurements from the European Space Agency's Sentinel-1 mission and data from the earlier ERS-1 and ERS-2 satellites to identify changes in each glacier's grounding line. That is the boundary where it loses contact with bedrock and begins to float on the ocean.
The analysis revealed that the Smith Glacier's grounding line had retreated 1.24 miles each year since 1996. The Pope Glacier's grounding line receded more slowly, at 0.31 miles annually since 1996. And the Kohler Glacier's grounding line, which had gradually retreated over time, re-advanced 1.24 miles since 2011.
The second study, led by NASA scientists, relied on data from the space agency's Operation IceBridge and other airborne campaigns. These include measurements radar and laser altimetry instruments.
Data from the sensors showed stunning rates of ice loss from the glaciers' undersides on the ocean sides of their grounding lines. The fastest-melting glacier, Smith, lost between 984 and 1,607 feet in thickness between 2002 and 2009 near its grounding line, or up to 230 feet per year.
Results of both studies will likely aid in ongoing efforts to predict the future loss of West Antarctica ice. One is published in the journal Geophysical Research Letters. The one led by NASA can be found in Nature Communications.
Top image: The Smith, Pope and Kohler glaciers flow into the Dotson and Crosson ice shelves in the Amundsen Sea embayment in West Antarctica, the part of the continent with the largest loss of ice mass. (Credit: NASA Jet Propulsion Lab / Public Domain)