Whale Alert app helps save the right whale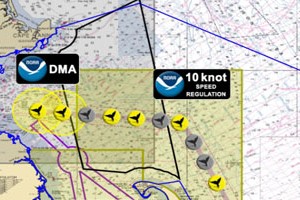 Boaters in the Atlantic Ocean can trade in their binoculars for an iPhone: a new app can show them where endangered right wales could be located – areas to avoid. The Whale Alert app receives information from real-time data acoustic buoys that detect right whale calls in the area. The app is free, and could save the lives of the 350 to 550 remaining North Atlantic right whales.
Whale Alert also provides information on conservation efforts in a certain location, thanks to NOAA. Boat collisions are the leading cause of right whale deaths.
Read more at NOAA news.
Image credit: NOAA