Wisconsin watershed program involves high schools to collect, share data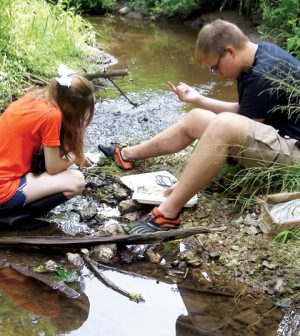 Students collect samples for the Lower Fox River Watershed Monitoring Program (Credit: Annette Pelegrin)
A group of high schoolers in the Green Bay, Wisc. area are learning about careers in environmental science thanks to the Lower Fox River Watershed Monitoring Program. The program, supported by the University of Wisconsin, has involved more than 700 students since its 2003 launch.
"We have almost ten years of data," said Annette Pelegrin, program coordinator. "It began in 2003 with five watersheds. We've trained teachers and schools that are interested and showed them how to measure different parameters."
Those include flow, temperature, transparency and turbidity of the program's streams. YSI 55 meters are used to measure dissolved oxygen and levels of phosphorus, ammonia and nitrogen are checked with a Hach colorimeter. Populations of local frog and bird species are also tracked.
"At each stream, we pick 10 sites at road crossings. Students go out with expert birders to learn how to identify sound and appearance of the birds. They write down what they see and are able to track the numbers over time," said Pelegrin.
The data collected since the program's launch has been used by monitoring professionals and researchers at the University of Wisconsin – Green Bay.
"It's more than just citizens monitoring. Our data is high-quality. It goes through a quality-control process before it enters our database," said Pelegrin. "And all of the teachers are trained."
The students have helped on other local projects. Whenever the city of Appleton, Wisc. was evaluating water in its flood retention basins, they did the testing. They've also assisted in work to mitigate farm runoff.
"I've been working on community outreach and education these past two years, and I get offers all the time from people wanting to join," said Pelegrin. "It's limited by our funding."
Pelegrin says that strengthening the program's endowment could provide for expansion. A stable endowment would better support efforts like the yearly watershed symposium that lets students present their work and a speaker series that connects them with industry experts.
In the past year, students from 11 high schools conducted testing in seven watersheds. Youngsters from the Green Bay Boys & Girls Club also joined in. It's one of the biggest group yet.
"They're really learning about careers in environmental science," said Pelegrin. "Many of them go into it, and it's because we're capturing their interest at a younger age."
Top image: Students collect samples for the Lower Fox River Watershed Monitoring Program (Credit: Annette Pelegrin)