Bright Dyes Rhodamine WT Dye
The Bright Dyes Fluorescent FWT red dye is ideal for septic inspection applications.
Features
Preferred, high strength formulations for medium to large scale visual and fluoremetric studies
NSF Standard 60 Certification for use in or around potable water sources
Also used to calibrate YSI 6025, 6130, 6131 & 6132 optical sensors
Fondriest Exclusives
Expedited repair and warranty service
Lifetime technical support
Overview
Bright Dyes act as a coloring label on each drop of water. As that water or liquid travels, it can be identified at each point on its travel until it reaches extreme dilution. It may be detected visually, by ultraviolet light and by appropriate fluorometric equipment. The dyes selectively absorb light in the visible range of the spectrum. They are fluorescent because, upon absorbing light, they instantly emit light at a longer wavelength than the light absorbed. This emitted (fluorescent) light goes out in all directions. Most common fluorescent tracers are compounds that absorb green light and emit red fluorescent light.
Absorption Resistant
FWT red dye is resistant to absorption on most suspended matter in fresh and salt water. Compared to Bright Dyes FLT Yellow/Green products, FWT Red is significantly more resistant to degradation by sunlight and, when used in fluorometry, stands out much more clearly against background fluorescence.
Questions & Answers
How do I dilute this dye for a 125 mg/L rhodamine standard?
Using this dye, various dilutions can be performed to get to industry standard solutions following the instructions on page 129 of the YSI EXO Manual. www.fondriest.com/pdf/ysi_exo_manual.pdf
What is the amount of rhodamine dye in the BrightDyes 20% WT dye, in mg/L?
A 20% rhodamine WT by weight dye solution is approximately 200 g/L.
Can I get a certificate of analysis (COA) for the Bright Dyes Rhodamine Dye?
Yes. A COA can be requested at any time with reference to a specific lot number. Reach out to a Fondriest Environmental sales representative to obtain this document.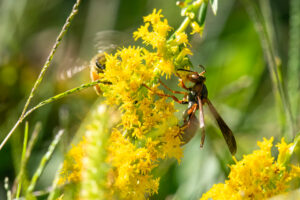 Pollinators of all shapes and sizes are vital to ecosystems around the world. From the wide array of food people eat to the diversity of life around the planet, life would be very different without them. Pollinators are organisms that help carry pollen from one plant to another, and over 350,000 species can be found worldwide, according to The California Department of Fish and Wildlife . With the strong relationship between plants and pollinators, losing either would have detrimental impacts on ecosystems. 
 
 Over millions of years, both plants and pollinators have evolved alongside each other and formed unique adaptations that allow them to work together, expediting and enhancing the process of pollination.
Read More