Extech CO250 Portable Indoor Air Quality CO2 Meter
The Extech Portable Indoor Air Quality CO2 Meter measures carbon dioxide, temperature, humidity, dew point, and wet bulb.
Features
User programmable audible alarm
Built-in RS-232 interface for capturing readings on PC
Maintenance free non-dispersive infrared CO2 sensor
Fondriest Exclusives
Free ground shipping
Expedited repair and warranty service
Lifetime technical support
The Extech Portable Indoor Air Quality CO2 Meter checks for carbon dioxide concentrations and calculates statistical 8 hour and 15 minute time weighted averages. The maintenance free NDIR sensor has measurement ranges from 0 to 5,000ppm for CO2, 14 to 140°F for temperature, and 0.0 to 99.9% for humidity.Programable audible alarms will alert users if readings detect a high concentration of CO2.
The built-in RS-232 interface captures readings to transfer to a PC. The data acquisition software and included cable record and document CO2, humidity, and temperature data. Applications include checking air quality in schools, office buildings, greenhouses, hospitals, and anywhere that high carbon levels of carbon dioxide are generated.
CO2 range: 0 to 5,000ppm
CO2 resolution: 1ppm
Temperature range: 14 to 140 °F (-10 to 60 °C)
Temperature resolution: 0.1 °F/°C
Humidity range: 0.0 to 99.9%
Humidity resolution: 0.1%
Wet bulb & dew point: calculated
Dimensions: 7.9 x 2.7 x 2.3 (200 x 70 x 57mm)
Weight: 6.7 oz. (190g)
(1) Meter
(1) Software and cable
(4) AA batteries
(1) Carrying case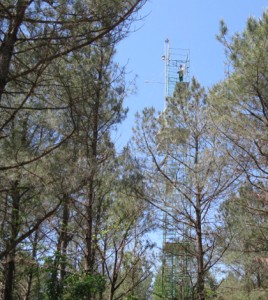 Determining exchange rates of carbon dioxide between the earth's forests and the atmosphere is turbulent business. 
 Wind above forest canopies swirls as vortexes of air enter and exit stands of trees. Across the globe, towers stand among the landscape, with sensors monitoring these eddies for carbon dioxide, water vapor and other gasses. These so-called "flux towers" collect data on carbon dioxide exchange rates between the earth and atmosphere. 
 Information gathered plays into the debate on the measurable effects of climate change. 
 Carbon dioxide flows between the earth, atmosphere and ocean in an attempt to reach equilibrium. As automobiles and energy production facilities burn fossil fuels, more carbon dioxide joins to the mix.
Read More