The Extech Oyster Series pH/mV/Temperature Meter has a rugged design for handheld or benchtop use.
Features
Memory function stores and recalls 25 labeled readings
°C/°F switchable
Audible beeper to alert user when function is completed
Fondriest Exclusives
Free ground shipping
Expedited repair and warranty service
Lifetime technical support
Overview
The Extech Oyster Series pH/mV/Temperature Meter features a large LCD built into the adjustable flip-up cover that displays pH or mV and temperature simultaneously. The microprocessor-based meter has a splash-proof housing and front panel tactile touchpad to slope and calibrate.
Mechanics
The meter measures pH from 0 to 14pH, mV from -999mV to 999mV, and temperature from 32.0°F to 212.0°F (0.0°C to 100.0°C). The memory function stores and recalls up to 25 labeled readings. Self-diagnostics display codes help users troubleshoot electrodes, buffer, and temperature errors. The measurements are automatically or manually temperature compensated, and the meter is calibrated at a 5-point buffer recognition (1.68, 4.00, 7.00, 10.00, 12.45) with adjustable values. An audible beeper will sound when a function is completed.
pH range: 0.00 to 14.00pH
pH resolution: 0.01pH
pH accuracy: 0.02pH
mV range: 999mV to 999mV
mV resolution: 1mV
mV accuracy: 2mV
Temperature range: 32.0°F to 212.0°F (0.0°C to 100.0°C)
Temperature resolution: 0.1°
Temperature accuracy: 0.8°F/0.5°C
Dimensions: 3.7 x 4.2 x 2" (94 x 107 x 51mm)
Weight: 12oz (340g)
(1) Meter
(1) Neckstrap
(1) 9V battery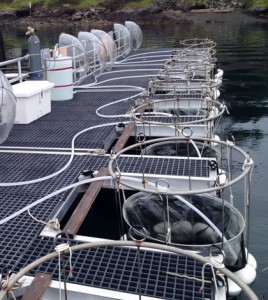 With oceans becoming more acidic worldwide, scientists are getting creative in designing experiments to study them. For example, one group at the University of Washington is using giant plastic bags to study ocean acidification. 
 Each bag holds about 3,000 liters of seawater and sits in a cylinder-like cage for stability. The group at UW, made up of professors and students, is controlling carbon dioxide levels in the bags over a nearly three-week period, during which they are looking at the effects of increased acidity on organisms living near the San Juan Islands. 
 "These mesocosms are a way to do a traditional experiment you might do in a lab or classroom," said Jim Murray, professor of oceanography at the University of Washington.
Read More