LDI ROW Stainless Steel Non-Contact Oil Detectors
The ROW Stainless Steel is an autonomous non-contact sensor for the detection of oil on water in corrosive conditions including oil terminals and marine environments.
Features
Non-contact detection for easy installation maintenance-free operation
Low power consumption of <2W makes it ideal for battery powered systems
5-year LED lifetime with 2-year warranty
Fondriest Exclusives
Expedited repair and warranty service
Lifetime technical support
The ROW (Remote Optical Watcher) is a non-contact sensor for detecting oil on water. Highly accurate and easy to maintain, the ROW detects and alerts you to unsuspecting oil spills. It provides 24/7 industrial and environmental water monitoring, whether at effluent discharge or influent intake points.

Detectable oils include motor oils, turbine oils, vegetable oils, lubricant oils, hydraulic oils, mineral oils, fuel oils, marine diesel oils, crude oils, heating oils, gas oils, bunker fuels, diesel, gasoline, kerosene, and aviation fuels.
Questions & Answers
Is the detection limit adjustable on the ROW?
Yes, the user an adjust the alarm threshold using the included software. Alarm signals can be sent via 4-20mA, RS-485 Modbus RTU, and/or through a relay for controlling external devices.
Can the ROW measure the oil dissolved in the water?
Yes, the ROW can detect oil dissolved in water. Because it is using optics, the ROW's beam can penetrate up to 10-15 cm depth into the water column, depending on distance from surface and turbidity.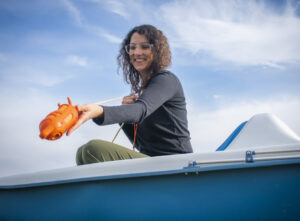 The Sontek CastAway-CTD is a castable device that measures conductivity, temperature and depth. The instrument has been used in the field for over a decade by oceanographers, limnologists, divers, fishers and educators. There have been few changes since the first iteration in 2010, showing that the instrument is durable and accurate without requiring new models. 
 
 The CastAway is the first conductivity, temperature and depth (CTD) instrument of its kind. While other CTDs are large and cumbersome to deploy, with cages and isolated sensors, the CastAway is a small, lightweight and easy-to-use instrument. Typical CTDs utilize pumps to ensure water flows over the sensors during deployment.
Read More