Activists call for Environment Canada to fund the Experimental Lakes Area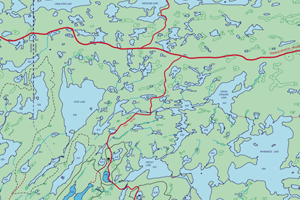 A Canadian advocacy group wants Environment Canada to take over funding the Canadian Experimental Lakes Area to prevent it from ceasing research, according to SaveELA.org.
Fisheries and Oceans Canada will cut all funding to the northern Ontario Experimental Lakes Area in 2013. Environment Canada already works in concert with the Experimental Lakes Area monitoring weather.
The Experimental Lakes Area is made up of 58 lakes that act as a field laboratory, according to CBC News.
More than 25,000 Canadians signed a petition for Environment Canada to take over funding the organization. Several municipalities passed resolutions in support of the switch. A recent Environics poll showed that 75 percent of Canadians surveyed supported the continued funding of the area.
Image: Map of the Experimental Lakes Area (Credit: Experimental Lakes Area)