Choosing The Right Thermo Benchtop For Your Project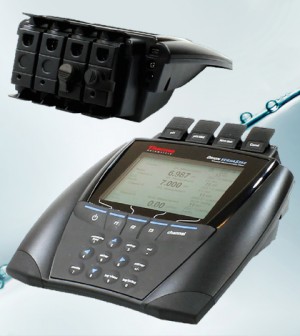 Thermo Scientific's Orion Star A line is full of options for completing projects from environmental monitoring to quality control and beyond. These include benchtops like the Orion Versa Star and portables like the Orion Star A329.
Making the right selection is important for ensuring project success, but sometimes choosing a meter can be difficult. To make things a little easier, we talked with Ricki Hartwell, the global product manager for Thermo Scientific's Orion Laboratory and Field Instruments. She gave some tips to help customers find the best meter to meet their needs. Let's take a look at her recommendations for benchtops.
"Benchtop meters tend to be the best for processing multiple samples at a time, since the meter-attached electrode stand facilitates moving sensors into and out of samples," said Hartwell.
Thermo Orion Versa Star

Thermo Orion Versa Star benchtops are a solid choice for customers who work in regulatory testing and pharmaceutical labs because of the comprehensive graphic displays that they sport. But also key for those customers is GLP-compliant data logging and reporting, and Versa Star benchtops come through by keeping things simple, says Hartwell.
Admittedly, the Versa Star will handle most applications with ease, especially with the swappable sensing modules it offers. Some top choices include the Versa Star 10, Versa Star 20 and Versa Star 30, says Hartwell. All have a 3-year warranty. For more complete information on the Versa Star, see this Monitoring Gear post.
The Versa Star's large, color display offers adjustable text sizes that allow customers to more easily view their measurements and onscreen instructions take the guesswork out of meter calibration and setup procedures, says Hartwell. A numeric keypad also facilitates quick and simple data entry and meter customization.
"For customers who are looking for a meter with all the best functions and features, I would recommend an Orion Versa Star meter," said Hartwell. "Versa Star meters offer interchangeable measurement modules that can be used to customize the meter's four channels to meet each customer's specific measurement requirements – now and in the future."
As for the Thermo Orion Star A benchtop meters, they have robust features for operation and calibration that deliver for those who do most of their work in a laboratory setting. The Star A210 series includes advanced meters, while the Star A110 series includes more basic meters that are easily matched to customer needs by feature, performance or budget.
Thermo Orion Star A210 Series

The Star A210 series advanced benchtop meters are available as single- or dual-parameter meters with easy-to-read graphic displays with a backlight option and intuitive, user-friendly operation with on-screen instructions. The comprehensive meter keypad offers menu-specific function keys and shortcut keys for quick and efficient meter navigation and control and the meter can power and control a stirrer probe for sample stirring without the need for magnetic stir bars.
In addition, Orion Star A210 benchtops offer fast and reliable measurements with selectable Auto-Read, continuous and timed read modes. They include an onscreen reading stability indicator and data security is assured by using non-volatile meter memory that preserves data, even through a loss of power.
GLP-compliant data logging on each Orion Star A210 collects up to 2000 measurement sets with a time and date stamp that can be easily transferred to a printer or computer. Each meter has a USB or RS232 port and Orion Star Com software, available at no cost, facilitates data transfer from meter to computer.
Hartwell says the Thermo Orion Star A210 series contains several good benchtops for applications at municipal water utilities, such as wastewater treatment plants. These include the A211 pH meter, A212 conductivity meter, A213 rugged dissolved oxygen / dissolved oxygen meter and A215 pH / conductivity meter. All of the meters have informative displays with backlights, as well as accurate calibration and operational features that plant managers need. Their warranty period is three years.
Thermo Orion Star A110 Series

The Star A110 series basic benchtop meters are more economical lab meters that offer simplified, easy-to-read displays, user-friendly operation and basic, on-screen text prompts. They also offer simple measurement capabilities with an emphasized measure key and an indicator that shows reading stability.
"Orion Star A110 series benchtop meters and Orion Star A210 series offer customers a budget-friendly, simplified meter that doesn't compromise on reliability and quality," said Hartwell. "The Star A110 series benchtop meters are a simple, economical solution for basic routine measurements in the lab."
Because of their simple operation, Hartwell says benchtops in the A110 series are ideal for uses in academic and educational applications. They also provide solid performance to professionals working at municipal water utilities.
GLP-compliant data logging on each Orion Star A110 collects up to 50 measurement sets with a time and date stamp. And the Thermo Orion Star A110 series contains several worthwhile options that combine good performance and cost in savings, says Hartwell. These include the A111 pH meter, A112 conductivity meter and the A113 dissolved oxygen meter. All come with a 3-year warranty.
Electrodes

There are several electrode options available with each meter. These include common ion-selective electrodes that use a sensor to convert the activity of a dissolved ion into electric potential.
Combination electrodes, which have a sensing half-cell and a reference half-cell built into one electrode body instead of existing as two separate electrodes, are the common choice for most applications. They are convenient when it comes to transferring, cleaning and maintenance, says Hartwell, because dealing with one electrode is easier.
"This is especially important in dirty, viscous, sludge, slurry or semi-solid samples that require extensive electrode cleaning after being used," said Hartwell. "These types of samples are common in the industrial, food and beverage and wastewater industries."
Triodes are also available. They are electrodes that measure both pH and temperature. Hartwell says triodes are a good choice for use in samples that vary significantly in temperature. Samples with varying temperatures are commonly measured in the environmental, pharmaceutical, biotech and food industries.
There are conventional silver / silver chloride electrodes, but Hartwell says those can get clogged by complexing or the silver precipitating. To get around those issues, Thermo has released ROSS electrodes, which are more ideal for applications with samples containing Tris buffers, sulfides and proteins. There are refillable ROSS Ultra electrodes, that come with 2-year warranties, and gel-filled ROSS Ultra electrodes, which have 18-month warranties.
ROSS electrodes have a reference system that uses an iodide / tri-iodide ion pair that remains soluble over a broad range of temperatures. The reference system is completely reversible and very quick in attaining chemical and thermal equilibrium.
"It has a very stable millivolt signal across a range of temperatures, so the reference potential does not shift significantly with temperature changes," said Hartwell. "This reversible reference system can extend the useful life of ROSS pH electrodes, especially when the electrode is used at high temperatures."