EPA report is agency's first linking fracking and water contamination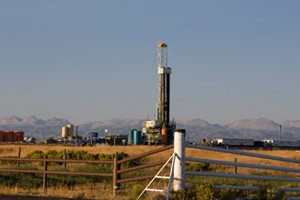 Chemicals associated with hydraulic fracturing were found in groundwater wells in Wyoming, according to a federal report. The report is the result of a three-year investigation by the Environmental Protection Agency and marks the first time the agency has linked the controversial natural gas extraction process with groundwater contamination.
While environmental groups have long criticized the practice for its potential to taint drinking water, natural gas development companies have maintained that hydraulic fracturing is safe. Gas industry proponents in Congress said the EPA's report is politically motivated and should have been peer-reviewed before release.
Read more at Fuel Fix
Image credit: Western Citizen