FloWav Pipeline PSA-AV flow meter resists ragging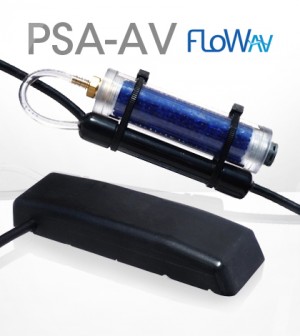 For professionals who use meters like the FloWav Pipeline PSA-AV to measure water flowing through mains or sewers, the job is often a dirty one.
As a dirty job, there's even a slang term for all the debris – organic or not – that gets stuck to cables and other devices during deployment: "ragging." One feature on the new PSA-AV flow meter may help some professionals by cutting down on the sticky debris.
"Our sensor cable is the smallest diameter cable manufactured on these sensors today," said Kelly Abercrombie, director of sales and marketing at FloWav.
The smaller cable also makes the PSA-AV easier to install. Larger cables can restrict where sensors can be placed, as well as catch more debris that can tangle up and absorb more interference from flowing water or wastewater. Those influences can impact data collected by the sensor and the ultimate stability of the sensor installation.
"The crews really like that aspect of our sensor because that results in less time in the field servicing them," said Abercrombie.
All of the technology needed to come up with the area velocity measurements is housed within the sensor, negating the need for a "meter" that performs the signal processing like most other sensor manufacturers require.
"That's one important thing that makes it better," said Abercrombie. "We do all those calculations within the sensor."
Abercrombie says the PSA-AV combines the sensor and meter for more accurate and reliable readings. Other flow sensors send data to a separate processor and then on to a data logger. The multiple analog transmissions can introduce error, he says.
"The weak link there is between the sensor and the meters," said Abercrombie. "One of the things that's nice about our sensor – when all the calculations are done, the digital signal we output allows us to send the data farther. You can run a cable just about as long as you want."
Another advantage that the PSA-AV introduces is a ceramic pressure sensor that Abercrombie says reduces drift and is very durable in the types of environments where flow meters are deployed. By comparing sensor designs of yesteryear, engineers at FloWav found that a ceramic diaphragm performed better over time and was more accurate.
"Our engineers have been in this business for over 30 years," said Abercrombie. "We drew on our own knowledge and others from the industry to design a very solid sensor."
About Daniel Kelly