Global deforestation study shows forest loss shifts local temperatures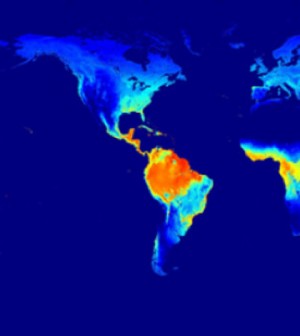 Evapotranspiration compiled from MODIS/NASA. (Courtesy of University of Maryland)
Researchers from the U.S. and China have pieced together a global picture of the effect of deforestation on local temperature conditions, according to a recent press release from the University of Maryland. The deforestation data shows that removing forest cover can change the local temperatures by several degrees, which in turn can affect crops in the region, lowering their yields and making them less economically viable.
The effect of deforestation on a region was shown to be complex. Tropical forests near the equator caused cooling year round, whereas temperate forests and boreal forests far from the equator caused cooling or warming depending on the season.
Each forest temperature effect also was a product of the interplay of two forces: albedo, or reflection of sunlight from the forest's surface, and evapotranspiration, or the release into the air of moisture trapped in the forest's soil, rocks or plants. Typically forests would have a lower albedo than farmland, meaning they were more likely to be cooler than farmland.
The satellite data used for the study came from NASA's Moderate Resolution Imaging Spectroradiometer, which provided highly detailed images that were global in scope, perfect for the requirements of the worldwide deforestation study.
Top image: Evapotranspiration compiled from MODIS/NASA. (Courtesy of University of Maryland)