Grant keeps data buoy near Holland, Mich. afloat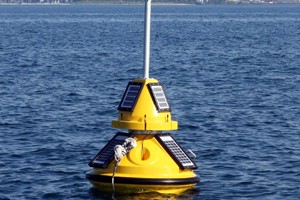 A grant from the Great Lakes Observing System will maintain a Lake Michigan buoy near the town of Holland, according to the Holland Sentinel. The $100,000 grant will fund most of the buoy's operations, but project managers would like to add extra sensing capabilities.
The grant covers the minimum capabilities required by the National Weather Service for a weather buoy, including the ability to take readings of wind speed and direction, air temperature, relative humidity, pressure, wave height and period, and surface temperature.
Funding comes from the National Oceanic and Atmospheric Administration's Coastal Storms Program. The buoy is planned to be re-deployed in May 2013 and stay through November.
Image credit: Illinois-Indiana Sea Grant photo/Anjanette Riley