Great Fishing Videos Use Underwater Fishing Cameras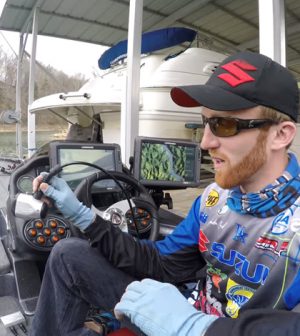 Screen shot from one of Brandon Card's videos. (Courtesy of Brandon Card)
One of the biggest trends in fishing over the past few years is the use of cameras. These cameras, including underwater fishing cameras, have changed how we capture our fishing memories, how we watch tournament coverage and even how we promote our sponsors.
It's A Video World
I love watching a good fishing video on YouTube and also love creating them. Here are some tips I have learned over the years for making the perfect fishing video. If you think about it, videos have almost replaced photos. You can do so much more with video. And on social media, videos are the way to go.
One tip to keep in mind is to keep your videos short. With so many videos available on social media, you have to try to make them quick or your viewers will lose interest quickly and move on to the next one in their feed. A two- or three-minute video is enough to cover plenty of material and quick videos less than 30 seconds are even better and will allow you to share on Instagram and other places.
Editing And Getting The Best Footage
Once you have all of your footage, what are you going to do with it? Edit it and share it of course. Editing takes some time getting used to and like everything else with fishing, you will get better and better with more experience. YouTube is a great resource for learning how to do different things like splicing video clips, adding music and much more.
As far as editing programs go, you can spend quite a bit of money and the more expensive versions will definitely allow you to do more. There are cheaper options though. Windows Movie Maker and iMovie (Mac) come standard on most computers so you may already have something to use. These will be enough to get you started with the process.
Like taking a good photo, the lighting and everything else needs to be considered before making a video. Pay attention to the little things and your video will come out better. Using some sort of mount or tripod will also make sure you have good footage without the shaky video from someone holding the camera.
Underwater Footage
Another way to make your video stand out is to use some sort of underwater footage. The FishSens SondeCAM HD is my go-to camera for underwater footage. I use it to show people exactly what I am talking about. People love to see fish in their natural habitat swimming around and, if I am fishing rocks or docks, I get footage with the SondeCAM to show that in my video. It adds a different element to your video and keeps things interesting.
With the newer version of the underwater fishing camera, you can edit and share the video footage right from your smartphone with the SondeCAM app. This makes it really easy to make quick videos and then show them off to your buddies through a text. You can also add them to all of your social media accounts. It is so easy you can do it right away, even before you get off of the water.
Smartphone Videos
If you don't have extra cash to buy a camera, no worries, use your phone. Most of the newer phones have great video cameras and this will be enough to get footage and practice with editing.
Sponsors And Promoting Yourself
Videos are a great way to help promote yourself or attract potential sponsors. Understanding how to make good videos and having a good social following is almost as important as your fishing success.
Some YouTube anglers, like Jon B. of Fishing the Midwest, and others have figured out how to make money from their videos. You don't have to be a pro on the Bassmaster Elite Series to make a living with fishing; you can start just by creating videos. It is cool to see how many people are doing this and it has really changed the whole fishing industry.
After writing all of this, I realized that doing this article as a video would have been even better!
Top image: Screen shot from one of Brandon Card's videos. (Courtesy of Brandon Card)