King County water quality moorings keep a close eye on Puget Sound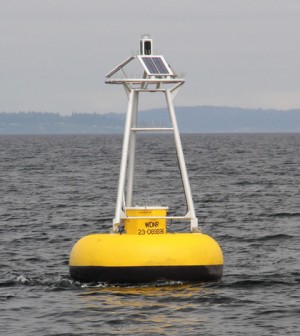 King County's marine monitoring buoy off Point Williams in Puget Sound (Credit: Kimberle Stark)
When King County's marine water quality monitoring program retired a data buoy that once floated off of Alki Point in Puget Sound, the program's staff quickly learned what a popular resource the buoy's online data had become.
"All of a sudden we got some calls from some scuba divers saying, 'What happened to that? We would look at that data,'" said Kimberle Stark, a marine biologist with the county's Department of Natural Resources and Parks.
And the debut of the buoy's replacement, which appeared off Point Williams, was just as conspicuous.
"Literally the day we deployed the new one last week, we were getting calls. 'What's this? What's going on here?'" she said. "It immediately showed up on a couple blogs over there."
The county's water quality monitoring in Puget Sound began in the 1960s as an attempt to make sure the municipal wastewater discharges weren't degrading the habitat. It has since grown into a multifaceted and high-tech monitoring initiative that rivals the breadth of some state programs.
The county has collected near real-time, high-frequency data since 2008 when it partnered with the Seattle Aquarium to host two moored water quality sondes. The instruments, both YSI 6600 V2 EDS, measure temperature, conductivity, pressure, dissolved oxygen, turbidity, pH and fluorescence every 15 minutes. A weighted pulley system keeps the sondes at relatively fixed depths, with one around 1 meter below the surface and the other 10 meters below.
The Point Williams buoy carries another sonde, and two more sondes are installed in inner Quartermaster Harbor–one at the Quartermaster Yacht Club and another at Dockton Park. These instruments are mounted to pilings and piers, which means they remain stationary as depth changes with the tides. The fixed locations also allowed their pressure sensors to detect a slight rise in the water's surface after the 2011 tsunami that devastated the Japanese coast. Stark said it was surprising to see an effect that far away.
"The water level rose about two to five centimeters. It doesn't sound like a lot, but it was actually quite large," she said. "The water was sloshing around for like three days, and that mooring picked it up, which was amazing."
It was also useful to scientists. Stark said the data from will help efforts to predict the effects of future tsunamis on the sound.
The county also runs the only phytoplankton community monitoring program targeting all species in the sound, Stark said. One reason that kind of program is rare is that marine phytoplankton can be difficult to identify and not many scientists have that expertise. It turns out that Gabriela Hannach, a scientist in the county's environmental lab, does.
"There are very few marine phytoplankton taxonomists around," Stark said. "And we thought, 'My goodness, we have one right in our lab. We need to take advantage of this.'"
The phytoplankton community information paired with other water quality data — like nutrients and chlorophyll — tells the county's scientists a more comprehensive story of what's going on, Stark said.
Along with its monitoring moorings, the county collects monthly water column profiles using a CTD equipped with WET Labs, Seabird and LI-COR sensors that measure chlorophyll, conductivity, depth, dissolved oxygen, salinity, temperature and photosynthetically active radiation.
While the monthly data is important, the high-frequency data from the moorings has helped the county take a closer look at processes that occur on a shorter time scale. For example, the instruments revealed dramatic 24-hour swings in dissolved oxygen that Stark said were unexpected.
In the summer months, the sondes in Quartermaster Harbor were detecting DO levels above 20 milligrams per liter, which amounts to more than 200 percent saturation. At night, the levels would drop below 2 milligrams per liter, approaching hypoxia.
"Even though the sensor is very very good, I didn't believe the numbers," Stark said. "We actually had one of our lab guys go out and take a sample as early in the morning as possible, especially when we were having those high numbers. Sure enough, they were saying there were bubbles in the water it was so supersaturated."
The lows, meanwhile, only last around six hours.
"So at least mobile animals can move away if they need to go to areas with higher oxygen," she said. "But we are going to be paying attention to make sure those lows don't linger any longer than that. "
For Environmental Monitor coverage of water quality monitoring stations on King County's major lakes, look here.
Top image: King County's marine monitoring buoy off Point Williams in Puget Sound (Credit: Kimberle Stark)