Landslide monitoring, social research protect San Vicente in El Salvador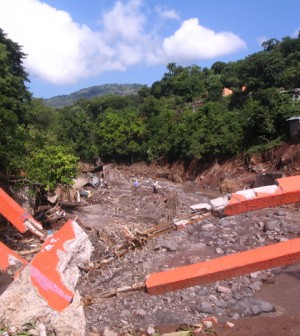 Soil around San Vicente volcano in El Salvador has always been rich, leading farmers to plant coffee, beans and sugar cane on its slopes. In times of heavy rain, the loose soil and volcanic rock on the steep slopes washes down, covering the villages nearby in heavy mud. Small downpours typically aren't a big deal, but hurricanes and tropical storms that bring lots of rain are.
When Hurricane Ida hit in November 2009, nearly 300 people died from volcanic debris flows in the communities in and around the town of San Vicente. An international aid effort followed. One of the responders was Luke Bowman, a doctoral candidate in Michigan Technological University's geology program, who went to San Vicente as a member of the Peace Corps Response program and later continued his time there as a Fulbright scholar.
Over 15 months, Bowman looked at the cultural and sociological aspects of the San Vicente region that make its people vulnerable to the extreme events, and worked with others to minimize their impacts in the future. Doing that requires a lot of effort and multiple initiatives.
Michigan Tech began collaborating with the University of El Salvador through the Partnerships for Enhancing Engagement in Research (PEER) program, led by the U.S. Agency for International Development and the National Science Foundation. Bowman, along with John Gierke, a professor of geological and mining engineering and science at Michigan Tech, worked with Fredy Cruz, an agronomy professor at the University of El Salvador.
They looked at 40 years of satellite imagery and continue to review images, trying to chart land-use practices that could make slopes less stable and residents more vulnerable to landslides. The U.S. Geological Survey's Earth Explorer program makes Landsat imagery publicly available and makes it possible to collect images for analysis. They're using the agency's LaharZ flow-modeling program to simulate a range of potential debris-flow paths that originate on the volcano's slopes and map the inundation areas for use by local authorities and decision-makers.
Five municipalities on the north side of the volcano host most of the population that farms the steep slopes. Many farmers agreed to permit Solinst Leveloggers in their wells to monitor water table depth throughout the watershed. The leveloggers were purchased with funds from the PEER program. Farmers protect the equipment from vandals, and the University of El Salvador sends technicians out to collect the data. The university representatives share data with the farmers so that they can use it in their planting preparations.
"Most of the wells that we're monitoring are three to four meters deep, all in alluvial sands and lahar deposits. Water can travel pretty efficiently through the deposits," said Bowman. "We're going back in October to see whether there are in fact perched water tables on the steep slope that could be a factor in the formation of shallow landslides."
Predicting rainfall is also important to crop preparations, especially for planning for flooding and drought scenarios. Bowman and colleagues worked closely with the Centro de Proteccion para Desastres (CEPRODE; The Center for Disaster Protection), a Salvadoran NGO, to set up tipping bucket rain gauges along the volcano, where knowing the rainfall rate is vital to understanding landslides.
CEPRODE's San Vicente-based project was vital to organizing efforts in the area, as well as planning logistics for university researchers.
"Five municipalities make up the northern plank of the volcano, and CEPRODE acquired funding for five weather stations at government buildings providing near real-time data on the web, the most important of which is rainfall rates," said Bowman. "They provided four-wheel drive transportation on field campaigns and were there to install the rain gauges."
Bowman says other parameters are collected at the municipal weather stations, including solar radiation, temperature and wind, which can all go into creating a hydrologic model for the region. In times of crisis, the rainfall rate is the most important to know. It's an important first-response tool for landslide forecasting when extreme weather strikes. But CEPRODE and local Civil Protection committee members also helped set up a longer term monitoring tool for slides, one that georeferences open cracks on the volcanic slopes and uses cement markers to measure changes that might indicate a slide-vulnerable area.
Five local observers based out of coffee plantations along the volcano's slopes track rainfall using staff gauges. They write values on worksheets that are collected monthly, though some observers send data sets at the end of each day via two-way radios provided by CEPRODE.
The cement markers and local rain observers are important to maintain awareness of the slides and improving response efforts. So is cooperation. Part of Bowman's time in San Vicente also included designing a certificate program geared toward reducing risk from disasters.
The program was free and open to the public and met every Saturday for nearly five months. Representatives from the municipal government, University of El Salvador, Red Cross, Civil Protection, police force, fire department and others came to the class to learn more about disaster response and crisis management. The time together paid off when an extreme rain event–Tropical Depression 12E–hit in 2011.
"It turned out that most of the people who managed the 2011 crisis were a part of the certificate program. It was great that they already knew each other," said Bowman. "There hadn't been another disaster to test strategies, but it cemented relationships started in the program. They were really tested by fire."
The mission to hone disaster-response strategies in San Vicente is continuing in an ongoing effort to make them more effective and prevent unnecessary damages and loss. The PEER program, or the "marriage between NSF and USAID" as Bowman calls it, makes sense, he says. Researchers from the National Science Foundation are doing work in many different areas of the world and USAID already has support networks set up in many of the countries where research is taking place.
In El Salvador, there are social aspects that contribute to disasters. These include a colonial history, poverty, a brutal civil conflict, population density, recurrent disasters and food security. Even though technically it's illegal to live near the volcano's drainages deemed "high risk", those laws aren't enforced, Bowman says.
"People have no other option. There's no place to go. Social factors come into play," Bowman said. "Better technology is good for improving our understanding of the hazard phenomena, but it won't have any impact if it's not put into a social context."
Top image: In November 2009, the muddy north slopes of San Vicente volcano gave way, destroying communities and killing hundreds. (Credit: Fredy Cruz)
About Daniel Kelly