In the North Pacific Gyre, sampling the Great Pacific Garbage Patch's plastics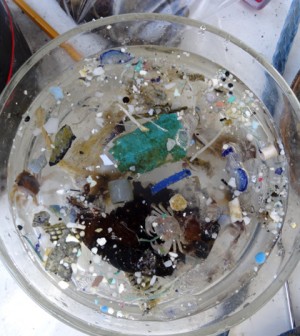 The first sample collected before arriving at the center of the North Pacific Gyre. (Credit: Lorena Mendoza)
There are five systems of large, rotating ocean currents in the world's oceans. Oceanographers know them as gyres, and many are familiar with just one of them: the North Pacific Gyre. Full of tiny bits of plastic debris, this area has come to be known as the Great Pacific garbage patch.
Though that term implies that large plastic items are floating in a gargantuan mat of trash as far as the eye can see, the reality is that much of the plastic in the North Pacific is small or broken down into tiny particles. But the area still has much higher concentrations of plastics than others and scientists have long been interested in how those levels affect zooplankton, fish and the millions of animals living in the North Pacific.
Lorena Mendoza, an assistant professor of chemistry at the University of Wisconsin – Superior, will be in the region aboard the R/V Alguita for much of July. She is studying the potential of plastic particles to absorb substances like pesticides, PCBs and other persistent organic pollutants. When plastics suck up the substances, pollutants can concentrate at the surface of the ocean instead of sinking to the bottom and working their way into sediment. This makes them more available to fish and other animals looking for food, and contributes to their passage to other creatures in the food chain.
Mendoza first saw the North Pacific Gyre seven years ago. "In my experience from 2007, I can notice that we're finding more and more plastic debris outside the gyre," she said. "The gyre is the center of the concentration of plastic debris with lots of plastic fragments in different sizes and colors."
Her work will involve using manta trawls — underwater nets with broad metal wings and gaping mouths said to resemble manta rays — to take samples of the floating plastic debris at different depths. From there, she will pass seawater through glass filters allowing her to collect microscopic plastic fragments.
In previous investigations, Mendoza found that plastic can absorb pollutants in much the same amounts as sediment. Plastics, she says, are a reliable avenue through which toxic compounds can concentrate near the surface of the ocean. And with the garbage patch there spanning a size twice as large as Texas, the North Pacific has a lot of plastic.
The Algalita Marine Research Institute, which is sponsoring the expedition, will analyze the quantities of plastic and zooplankton collected. In 1999, the research institute found a six-to-one ratio of plastics to zooplankton.
"This means six kilos of plastics against one kilo of natural food (for fish and other marine animals)," said Mendoza. "In 2007, we found 44 to one." And she expects the ratio will again increase once findings from this year's study are available.
Without conclusions from the current expedition, she still has recommendations for mitigating the Great Pacific garbage patch.
"My advice is follow the three R's: Reuse, reduce and recycle," said Mendoza. "And add one more R: Refuse to use plastics."
Top image: The first sample collected before arriving at the center of the North Pacific Gyre. (Credit: Lorena Mendoza)