All-In-One Weather Station: G2-MET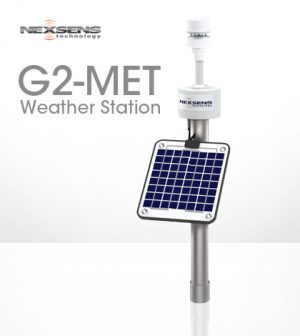 NexSens G2-MET Weather Station
Environmental professionals rely on powerful remote monitoring systems to record and transmit data from a variety of sensors in real time. In many applications, a complex data recorder is unnecessary and only adds to purchase, setup, and maintenance costs. For those looking to track reliable weather data, the new NexSens G2-MET Weather Station provides an innovative solution that lies at the crossroads of powerful and useable.
NexSens' innovative G2-Series redefines data collection by offering a lineup of easy-to-use products designed for specific applications, and the G2-MET is the latest addition to the rapidly growing G2 family. Designed and manufactured in the United States, the G2-MET delivers on its promise of durability and reliability.
The weather monitoring system vertically integrates the entire data collection process from sensor setup to online data viewing. Configured with an Airmar 110WX Ultrasonic Weather Station, the system records and transmits reliable wind speed, wind direction, air temperature, barometric pressure and relative humidity values directly to NexSens' WQData LIVE cloud-based data storage platform. This datacenter provides a mobile-friendly design and central location for data storage, analysis, project management, remote device configuration and automated alert notification.
A competitive price point and streamlined design that includes a pre-mounted solar power pack and cellular connected logger make the G2-MET ideal for portable and long-term deployments. NexSens' Chief Engineer Doug Nguyen said, "Setting up the system is as easy as making two connections and threading the included MAST onto a 2" NPT pole. The device does not require any programming or setup, and data begins streaming to WQData LIVE in minutes. Application-specific adjustments can be made from a mobile phone or laptop after returning from the field."
Once the G2-MET is collecting data, WQData LIVE can be used to remotely change device setup and check its status. User-configurable alarm thresholds can be set to send data and alerts. This capability ensures quick notification of important weather events without the need for power-demanding connection intervals that drive up system price, size and complexity. "By designing in various power saving and innovative features such as this, the G2-MET is able to remain extremely easy to setup and operate while providing a fully-featured monitoring system for the user," said Nguyen.
With a simple interface, powerful feature set, and extreme duty housing, the G2-MET has the ability to deliver quality data in challenging monitoring situations.
Pricing and additional information available at fondriest.com/G2-MET.