Power-generating wave buoys could host ROVs, sensors near oil wells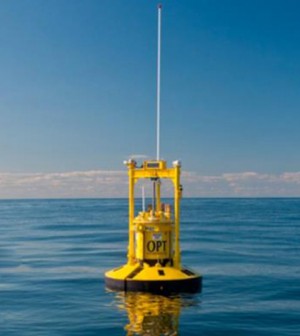 Power-generating buoys will be deployed off the coast of Europe near oil rigs to serve a variety of purposes including hosting sensor payloads, according to release from the buoy manufacturer.
Ocean Power Technologies manufactures and coordinates deployment of the buoys.  The buoys generate power through the up and down motion of waves moving a cylindrical, which turns a generator.
The buoys will likely be used for a host of purposes out near oil and gas operations including storing unmanned aquatic vehicles, hosting sensor payloads and powering some tools onboard rigs.
Ocean Power Technologies has already deployed buoys off the coasts of New Jersey, Hawaii and the United Kingdom
Image:  An OPT power-generating buoy (Credit: Ocean Power Technologies)