SF State study finds nitrogen fuels toxic phytoplankton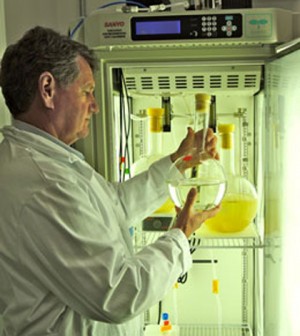 San Francisco State University scientists studying a toxic phytoplankton have found that a combination of sources of nitrogen may sustain the microorganisms, which can be deadly to fish and poisonous to humans, according to a release from the school.
Ocean upwelling of nitrogen likely is the main source of food for the poisonous Pseudo-nitzschia phytoplankton. Nitrogen runoff into the ocean from agriculture and water treatment facilities may be a sustaining food source when upwelled nitrogen settles.
The toxic algae produces domoic acid, a neurotoxin harmful to organisms up the food chain.  Scientists in the study found toxicity for the phytoplankton increases in lower light where algae grows slowly.
Image: William Cochlan checks a culture of phytoplankton diatoms (Credit: Chris Ikeda/SF State)