Thermo Scientific Masterflex peristaltic pumps: low maintenance, simple interface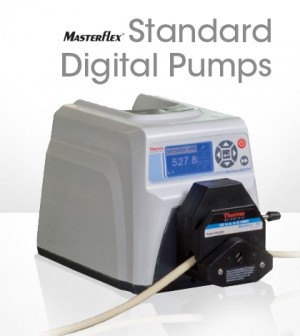 Thermo Scientific Masterflex pumps
Thermo Scientific Masterflex standard digital peristaltic pumps feature quick tubing changes, low maintenance costs and a simple user interface. These and other features such as accuracy and repeatability make it a quality choice for many applications, including ones in industrial and biotech research.
To work by the principles of peristaltic technology, rollers compress and decompress the tubing, creating forces to displace volumes of fluid. Using that principle, there aren't many limitations to what the Masterflex system can pump.
"The tubing material is the only thing that contacts the fluid," said Gregg Johnson, senior product marketing manager at Thermo Fisher Scientific. "There are no moving parts, so it provides a low-shear peristaltic action that is very gentle. It works well for delicate drug molecules."
Johnson says the low-shear action, which is less destructive to sample fluids, makes the tubing ideal for a large number of fluids, including those pumped in wastewater treatment plant applications. Polymer flocculent chemicals can break down if subjected to a shearing pump action.
Tubing composed of different materials is available, depending on customer needs. "There's not a lot of limitations – tubing is made of flexible elastomers, rubbers or PVC derivatives. These materials provide a broad range of chemical compatibility," said Johnson.
Tubing can also be quickly changed if needed. Most customers can change the tubing in just 15 seconds: many only have to slide some of the tubing forward. To do this, the front lever moves on the pump head to open the tubing track and allows for adjustment.
Application-appropriate tubing materials and quicker tubing changes reduce on long-term maintenance costs. "With the thermo-plastic elastomer materials, tubing life is now measured in thousands of hours, providing increased reliability of the product," said Johnson. That's a clear advantage over diaphragm pumps, which sometimes experience vapor locks that require downtime for repairs.
In addition to maintenance advantages, a menu-driven interface helps users get up and running quickly. Controlling the pump's speed is easy and it's possible to calibrate the pump and display flow on higher end models. "There's a very simple and intuitive user interface," said Johnson.
"Ease of use and fewer maintenance concerns over the life of the pump help outweigh initial capital costs," Johnson said. "Versatility in use and efficiency also bring added value to users."
"The best feature is their benefit for the customers in terms of reliability," said Johnson. "For applications when having a pump online is critical, it eliminates problems with other types of technology."