Verify Accuracy of Hand-Held Water Quality Meters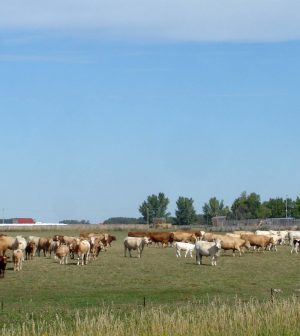 Cows in Saskatchewan (Credit: SriMesh [CC BY-SA 3.0 (https://creativecommons.org/licenses/by-sa/3.0) or GFDL (http://www.gnu.org/copyleft/fdl.html)], from Wikimedia Commons)
In the wake of a hot, difficult summer, the extension team from the Saskatchewan Ministry of Agriculture discovered that different hand-held water quality meters may offer very different results for users. Discrepancies were particularly acute as to sulphates and total dissolved solids (TDS), both of which can seriously impact livestock health. Livestock and Feed Extension Specialist Colby Elford of the Agriculture Knowledge Centre in Moose Jaw spoke with EM about the study and its implications.
"This wasn't so much a planned study as it was our reaction to noticing differences in the samples that we were seeing here," explains Mr. Elford. So we decided to analyze the data so we could make better recommendations to the producers who are actually having issues out there. We didn't go out aiming to do a project comparing different meters and testing samples against the lab values. We had the samples anyway, we were getting the results, and we decided to take it another step."
A hot summer prompts questions
The team set out to compare the accuracy of the measurements from the hand-held meters to those water quality measurements taken from the laboratory testing. They were hoping to avoid what had happened in the summer of 2017 when 200 cattle died of heat stress and dehydration in an area with poor water quality.
"In Saskatchewan, we've got a lot of poor quality water, it's sort of generally known," details Mr. Elford. "For livestock specialists, that's been their water for a long time. We know how much poor water quality can impact production, so we've been banging that drum for a long time."
The water quality can be dangerous for cattle even when the weather is fine, as high levels of sulphates can interfere with metabolism and cause trace mineral deficiencies. This, in turn, weakens the animal's immune system, causing a cascade of other problems and eventually death. Drought worsens the issue.
"Last year we also had extremely dry conditions, so not only are we getting lots and lots of concentration of minerals, usually that includes sulfates which is our major problem, but also the cattle were drinking quite a bit more because it was hot and sunny," Mr. Elford describes. "When you have a lot of evaporation from the heat you get a concentration of minerals in the dugout because the water leaves and everything else stays behind, so it just gets worse and worse throughout the summer. So we had a few instances of cattle deaths fairly early in the summer, and that inspired people to take the problem seriously. We were, thankfully, able to facilitate some water testing."
his matters, because about 60 percent of producers in the area don't lab test their water, according to the 2017 Western Canada Cow-Calf Survey.
"We had been encouraging people to do water testing at the lab, and when we started having a higher volume of samples show up at the office, we decided to get some meters," remarks Mr. Elford. "Being the nerds that we are, we were testing the samples, handing them over to the lab, and then comparing the results. It didn't take very long to recognize that there was a discrepancy."
Comparing meters and lab results
There is a large range of hand-held water quality testing meters on the market, but those most commonly used by livestock producers tend to work in the same way.
"Lots of the meters that you buy will measure conductivity and then convert that number to TDS using a conversion factor," states Mr. Elford. "Some of them are programmed to use a standard conversion factor, and some of them can be changed so that you can use any conversion factor and get a TDS estimate."
The team was troubled to learn that even properly calibrated and maintained meters were sometimes inaccurate.
"We found a lot of differences between what the handheld meter was saying and our actual lab analysis was telling us in our local area; meter results weren't really representative of the water that we were seeing," explains Mr. Elford. "That was a major concern: in some cases, we were seeing that the conductivity that was being displayed on the meters was much lower than the conductivity that was read at the lab. So if a producer was using that as their only source of information, they potentially could be providing cattle water that's toxic thinking that it was good."
Conductivity simply refers to water's ability to hold an electronic charge. The higher the concentration of ions in the water, the higher the conductivity. However, TDS and conductivity aren't always related, because different kinds of ions carry electricity differently. The team found an average conversion factor from electroconductivity to TDS of 91 percent, but among those hundreds of water samples, there was a range from 60 to 115 percent.
The real message: use caution when interpreting meter results, and confirm borderline results with lab testing.
"My message to producers is not that they shouldn't use a hand-held meter," affirms Mr. Elford. "It's that if they're going to use a handheld meter, they need to test their results against the lab so they have an idea that it's accurate, or at least there has been a few tests where it's consistently within a certain percentage point. For example, if they at least know that their meter is always going to read 3 percent higher, they will know that, and make decisions accordingly. If they're in that gray area where they're not sure about it, they can take that water and get it tested at the lab."
If you're in Saskatchewan, you can bring your samples to the Extension team.
"We do proactive extension in the form of workshops that connect producers with the newest technology, present them with the latest research, and assist them in implementing changes to their operation," details Mr. Elford. "We also do reactive extension, including a call center where people can get advice on changing aspects of their operation or production problems."
Best production practices
No matter where you are if you work with livestock (or just test for water quality with a hand-held device) there are a few takeaways from this study to keep in mind.
It's smart to test water sources before visible issues arise. It also pays to compare hand-held electroconductivity measurements with lab analysis results.
"Every single brand and model and make of hand-held meter is different," remarks Mr. Elford. "Some will probably last and be good for a long time. But how do you know? How can you be confident that it is still good? The only answer is to check it against a known reading."
Producers can further ensure the safety of their livestock by always calibrating new meters according to the directions, and then confirming that they are working the first few times with lab testing.
"Also, next year I'd encourage you to do the same thing," advises Mr. Elford. "You've left your meter on the shelves all winter long, and you bang the dust off it in the springtime, and test some dugouts just for peace of mind. Because we have had problems, I would encourage producers to test it again."
Above all, the team stresses that these meters are made to be deployed outside in the world under countless different conditions—they're very useful, and it pays to test water. It's simply important to remember to confirm that your instruments are accurate.
"I'm not trying to throw any manufacturers under the bus or anything, it's just that our experience was that it's best to make sure that you're getting the right readings so that you can trust your data," adds Mr. Elford.
Top image: Cows in Saskatchewan (Credit: SriMesh [CC BY-SA 3.0 (https://creativecommons.org/licenses/by-sa/3.0) or GFDL (http://www.gnu.org/copyleft/fdl.html)], from Wikimedia Commons)
About Karla Lant
Karla Lant is a professional freelance science writer and a member of the Society of Environmental Journalists. She also covers other scientific and medical stories as well as technology.