OTT MF pro Velocity & Depth Sensors
The MF pro electromagnetic velocity & depth sensors are designed for use with the MF pro Flow Meter.
Features
Electromagnetic sensor head has no moving parts and never requires calibration
Interchangeable sensors & cables for maximum flexibility
Magnetic inductive measurement principle ideal for use in low-flow conditions
Fondriest Exclusives
Free ground shipping
Expedited repair and warranty service
Lifetime technical support
Questions & Answers
What method does the sensor use to determine speed?
The OTT MF pro velocity and depth sensor uses an electromagnetic method to determine velocity. A magnetic field around the sensor creates a voltage proportional to the flow velocity, which is then detected by the electrodes in the sensor and transmitted to the meter.
What is the purpose of the optional depth sensor?
During a discharge measurement, a typical user will read the water depth from wading rod markings. With a the integrated depth sensor, water depth can be measured automatically, reducing human error in the field and providing increased accuracy.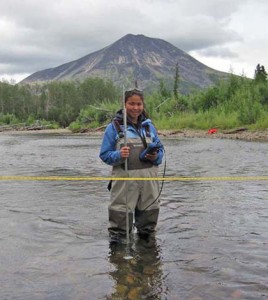 The Kuskokwim River--the second-longest river in Alaska and the longest free-flowing river in the U.S.--winds through state's remote Southwest where isolation drives gas up to $7.50 a gallon. 
 
"Here in the Kuskokwim, this is what some people refer to as 'Real Alaska,'" said Dave Cannon, environmental director of the Native Village of Napaimute, which sits on the north bank of the river. "You could go to Anchorage and it would be just like any other big city. But you get out here--you can only get to where I'm at by airplane or boat." 
 
Napaimute played a historically important role in mining and fur trading in the region, but the village mostly vacated when those industries dwindled in the area.
Read More