OTT MF pro Velocity Sensors
The MF pro electromagnetic velocity sensors are designed for use with the MF pro Flow Meter.
Features
Electromagnetic sensor head has no moving parts and never requires calibration
Interchangeable sensors & cables for maximum flexibility
Magnetic inductive measurement principle ideal for use in low-flow conditions
Fondriest Exclusives
Free ground shipping
Expedited repair and warranty service
Lifetime technical support
Questions & Answers
What is the range of this velocity sensor?
The OTT MF pro velocity sensor has a range of 0 to 6.09 m/s (0 to 20 ft/s).
What is the minimum conductivity requirement for this sensor to work?
The Both the OTT MF pro velocity sensor and OTT MF pro velocity & depth sensor have a minimum conductivity requirement of 10 uS/cm. If the conductivity of the water is less than that, the electromagnetic field will not operate properly.
Will the sensor work if it is only partially submersed?
As long as the sensor knob is submerged, the velocity sensor should work properly. You will need to do follow the 0.9xVmax flow measurement method if you are not measuring at different depths and averaging velocity. This method calculates flow based on 90% of the fastest velocity and is the recommended method when the depth is less than 12.7 cm (5 in.) or when the velocity is not stable.
Are the OTT MF pro Velocity Sensors compatible with the Hach FH950 Meter?
Yes, the OTT velocity sensors will work with the Hach FH950 meter, as they are cross-compatible.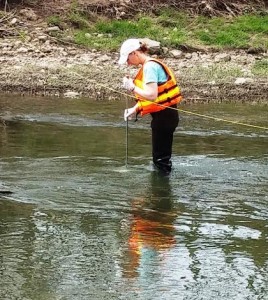 Rivers are a fundamental part of the American landscape, determining not only the geological features of the land, but also providing habitat for plants, animals and civilizations. 
 
Although rivers are a permanent part of the landscape, the rivers themselves are constantly changing, flowing at high or low levels, subtly changing course and affecting everything around them. Constantly monitoring the changes is very important, as the data influence flood predictions, show flood frequencies, indicate low-flow behavior, influence recreational pursuits as well as water management practices and can indicate potential improvements in engineering design. 
 
Few people know the temperament of constantly changing rivers as well as Tom Harris, Ohio data chief for the U.S.
Read More