Pegasus Athena Peristaltic Pump
The Pegasus Athena is a peristaltic pump mounted in the Pelican 1300 case and is made for durability and provides consistent flow rates.
Features
Pumps up to 2.5 liters per minute and as low as 40 mL per minute
Constant Voltage Boosting Technology boosts battery voltage for longer run times and steady flow rates
LCD display provides real-time flow rates, allowing the user to quickly make changes as needed
Fondriest Exclusives
Free ground shipping
Expedited repair and warranty service
Lifetime technical support
Overview
The Pegasus Athena peristaltic pump is lightweight and compact. Simply attach an external power source such as a 12-volt battery to drive the pump. A high-performance motor consumes only 3 amps at maximum draw, making it an extremely efficient pump.

Durable
The rugged Pelican 1300 case enclosure is made of impact and corrosion-resistant ABS plastic to withstand demanding work conditions. Incorporating the most accurate and precise variable speed controller for consistent flow rates ensures the technician's reliable sample integrity. The system features a built-in digital display and sealed push buttons that control the pump.
Length: 10.62"
Width: 9.68"
Depth: 6.87"
Weight: 8 lbs
(1) Athena peristaltic pump, mounted in Pelican 1300 case
(1) 10' DC power cord with battery clamps
(1) Easy-Load II pumphead
Questions & Answers
What depth can this pump lift from?
The Pegasus Athena Peristaltic Pump can lift up to 26 feet.
What is the difference between the Athena and the Alexis?
The Athena Peristaltic Pump requires an external power source, such as at 12 V battery. The Alexis pump has a rechargeable internal battery and AC power connector capability.
I blew the fuse in my Athena pump, can I replace it myself?
Yes, the fuse for the pump is replaceable. You will need a 7.5A blade fuse, and this can be purchased at an auto parts store.
What is the difference between the Athena and Electra peristaltic pumps?
The Athena has an integrated LCD display for adjusting flow rates, while the Electra uses a rheostat (dial) on the side of the pump.
What tubing is needed for sampling with this peristaltic pump?
There are two types of tubing needed. One for use in the pump head (silicone tubing) and the other for down-hole sampling (LDPE or HDPE). Both can be found in the accessories tab on the product page.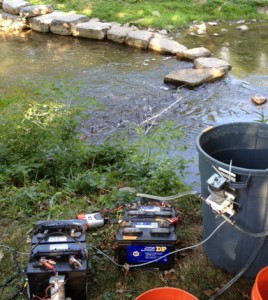 Planning stream restorations is becoming more important as the number of projects increases nationwide, in efforts to enhance water quality and habitat health of surrounding areas. 
 
Researchers at the State University of New York College of Environmental Science and Forestry (SUNY ESF) and Syracuse University led a study of two streams in upstate New York that had undergone restoration. They found restoration work created large areas of "transient storage" where water is temporarily retained behind restoration structures that enhanced downwelling to rates not observed in reference reaches. In natural streams, these transient storage zones are known to host biological and chemical processes that allow the stream to clean itself.
Read More