Pegasus Electra Peristaltic Pump
The Pegasus Electra is a peristaltic pump mounted in the Pelican 1300 case featuring a highly efficient motor, consuming only 3 amps at maximum draw.
Features
Pumps up to 2.5 liters per minute and as low as 40 mL per minute
Constant Voltage Boosting Technology boosts battery voltage for longer run times and steady flow rates
Simple dial-in technology allows user to achieve the perfect flow rate
Fondriest Exclusives
Free ground shipping
Expedited repair and warranty service
Lifetime technical support
Overview
The Electra peristaltic pump is lightweight and compact. To use, simply attach an external power source such as a 12-volt battery to drive the pump. A high-performance motor consumes only 3 amps at maximum draw, making it an extremely efficient pump.

Rugged Casing
The rugged Pelican 1300 case enclosure is made of impact and corrosion-resistant ABS plastic to withstand demanding work conditions. Incorporating the most accurate and precise variable speed controller for consistent flow rates ensures reliable sample integrity.
(1) Electra peristaltic pump, mounted in Pelican 1300 case
(1) 15' DC power cord with battery clamps
(1) Easy-Load II pumphead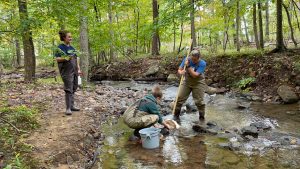 The Chesapeake Bay is enormous: the Bay and its tidal tributaries have 11,684 miles of shoreline—more than the entire U.S. west coast. It is the largest of more than 100 estuaries in the United States and the third largest in the world. The Bay itself is about 200 miles long, stretching from Havre de Grace, Maryland, to Virginia Beach, Virginia. 
 
But the Chesapeake Bay isn't just enormous--it's enormously important. The Chesapeake Bay Program reports that its watershed covers about 64,000 square miles and is home to more than 18 million people, 10 million of which live along or near the Bay's shores.
Read More