Proactive Abyss Plastic Pump
The Proactive Abyss can pump up to 220 feet from ground level by simply connecting it to a 12V battery.
Features
Operates under harsh conditions and high turbidity
Pump can run continuously in water without the need for a cool down
3000 hour motor life provides an economical sampling and purging solution
Fondriest Exclusives
Free ground shipping
Expedited repair and warranty service
Lifetime technical support
Overview
The Proactive Plastic Abyss pump is capable of pumping up to 220 feet from ground level by simply connecting it to a 12-volt battery. Its reliable design is suitable for continuous sampling and purging of groundwater wells. The Proactive Plastic Abyss pump's sleek outside minimizes well hang-ups and easily fits into 4-inch wells or larger.
Applications
Its reliable design and low amp consumption make it the ideal pump for a remediation pump and treat system. The Abyss pump can run continuously, 24 hours a day, 7 days a week, for remote situations when the pump needs to run and no technician is present.
Solar Option
Simply hook up the desired solar panel arrangement to the 80 Amp Solar Charger and then to a deep cycle marine battery(ies) for a turnkey solar pumping system that will last for years.
Power Consumption: 60 Watts (max)
Volt Recommendation: 12-15V at source
Maximum Amp Output: 4 Amps
Measurements: 12" length x 3.82" diameter
Use With: Optional Low Flow Sampling Controller
Required Tubing: 3/8" or 1/2" ID tubing
(1) 12V Engineered Plastic Abyss pump with 230' wire lead
(1) Set of 12V battery clamps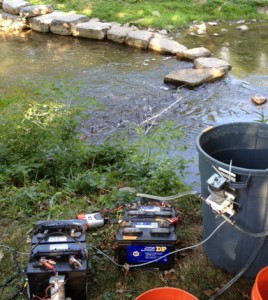 Planning stream restorations is becoming more important as the number of projects increases nationwide, in efforts to enhance water quality and habitat health of surrounding areas. 
 
Researchers at the State University of New York College of Environmental Science and Forestry (SUNY ESF) and Syracuse University led a study of two streams in upstate New York that had undergone restoration. They found restoration work created large areas of "transient storage" where water is temporarily retained behind restoration structures that enhanced downwelling to rates not observed in reference reaches. In natural streams, these transient storage zones are known to host biological and chemical processes that allow the stream to clean itself.
Read More