Solinst AquaVent SPX Wellhead
The AquaVent SPX Wellhead offers both power and communication to the AquaVent water level loggers.
Features
Fits conveniently on 2" well casing with 4" adapter available
(4) 1.5V AA lithium batteries last up to 8 years with 1 reading per minute
Contains built-in desiccants with hydrophobic filter for maintenance-free operation
Fondriest Exclusives
Free ground shipping
Expedited repair and warranty service
Lifetime technical support
The AquaVent SPX Wellhead fits conveniently onto a 2" (50 mm) well casing (a 4" Well Adaptor is available). The wellhead has a connection for communicating with Solinst software and accessories, along with an additional connection for communicating with third party dataloggers or telemetry systems using MODBUS (RS-232/RS-485) or SDI-12 protocols.

Each Wellhead contains four (4) 1.5V AA lithium batteries that power the AquaVent logger. They are user-replaceable and can last 8 years based on 1 reading per minute (the internal AquaVent logger battery is only used to maintain the clock).

For permanent moisture protection, the Wellheads contain multiple built-in desiccants and have a hydrophobic filter where the vented cable terminates at surface.
(1) AquaVent Wellhead
(1) Well sleeve, 2"
(1) Cable hanger bracket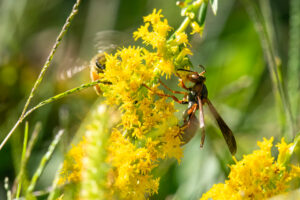 Pollinators of all shapes and sizes are vital to ecosystems around the world. From the wide array of food people eat to the diversity of life around the planet, life would be very different without them. Pollinators are organisms that help carry pollen from one plant to another, and over 350,000 species can be found worldwide, according to The California Department of Fish and Wildlife . With the strong relationship between plants and pollinators, losing either would have detrimental impacts on ecosystems. 
 
 Over millions of years, both plants and pollinators have evolved alongside each other and formed unique adaptations that allow them to work together, expediting and enhancing the process of pollination.
Read More